An outdoor central air conditioner (A/C) unit is a major investment. Purchased outright, it can cost anywhere from $3,000 – $10,000. If you get a system that's too big for your home, you'll waste money on lost efficiency and high energy bills..
Why pay all that money upfront without knowing your needs? Wouldn't it make more sense to get expert A/C advice and a low monthly payment?
That's why the Stress-Free A/C program from FPL Home Services is here. We can help recommend a unit that fits both your home and budget. But before that happens, you have some detective work to do. With the right information, you can find the ideal cooling system. Here's what you should know before you apply for the program.
1. Compare systems
The Stress-Free A/C program offers a variety of central air cooling units as classified by the Air-Conditioning, Heating, & Refrigeration Institute. Units are rated by tonnage and SEER (Seasonal Energy Efficiency Ratio).
To figure out what unit is best for your home, a technician considers two things:
the size of your home, and
the amount of cooling you use each year.
Your technician will use the measurements in your application to recommend the best unit. But whichever A/C you choose, you'll want to know what you're paying for.
2. Understand your benefits
Learn what kind of unit coverage you get with the Stress-Free A/C program. Do you know how long parts are protected? (For the full length of your agreement.) Is coverage for labor costs included? (It is.) Who pays for the A/C filters? (We do.)
What does this mean for your wallet? It can mean significant savings on regular maintenance and repair expenses. And we've got the numbers to back that claim up. Take a look at our estimated costs to run and fix a central A/C in Florida: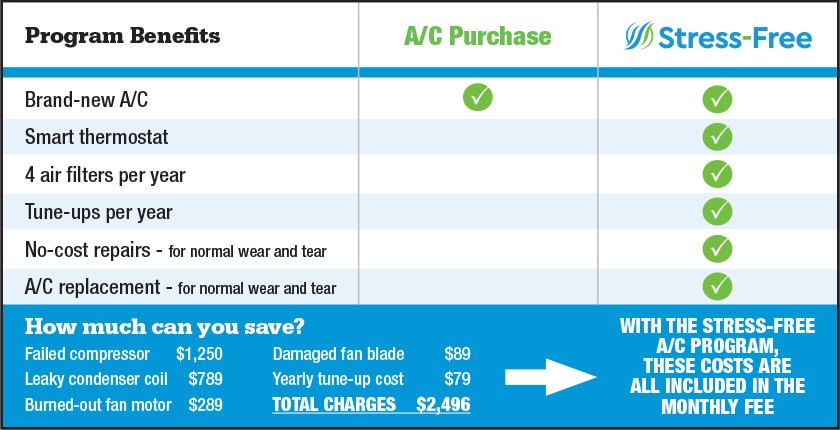 Once you understand your coverage, you'll want to ask your technician about payment terms. You may be surprised by the affordability of the Stress-Free A/C program.
3. Discuss financing
The Stress-Free A/C program offers multiple funding options, with variable agreement lengths and payments. Compare the payments and interest rates. How do they match up against your budget? Talk it over with your technician and explore your options.
4. Find out how many units you need
Do you own a large, long or multi-story building? If so, you may learn during your technician's first visit that you need extra A/C units. The technician will suggest how many and where to put them. Feel free to ask questions about your installation. Your technician knows air cooling systems, shall we say, cold.
Ready to apply?
With this information in hand, you can feel confident your new A/C will provide significant value. You're sure to enjoy the greatest comfort without overspending. Click here when you're ready to apply.
FPL Home Services is a subsidiary of FPL Home and an unregulated indirect subsidiary of Florida Power & Light Company (FPL). The Stress-Free ACSM program is offered and provided by FPL Home Services, License No. CAC1820030, and not FPL Home or FPL.